What is Podiatry?
Podiatry has replaced the word Chiropody as it better describes working on the feet. 'Podo' comes from Greek meaning 'foot' whereas 'Chiro' means hand.
To become a Podiatrist it is now necessary to have a University Degree. In addition to routine footcare, Podiatrists are trained to understand what impact systemic disease such as Peripheral Vascular Disease, Diabetes, Neurological, Dermatological and Arthritis have on the feet.
Podiatrists will carry out a patient assessment which includes taking a medical history with details of medication. They will also carry out a biomechanical and dermatological assessment before a treatment plan is agreed with the patient. Referrals will be made to other healthcare professionals where appropriate whilst the overall care remains with the patient's General Practitioner.
The Foot
The feet are highly complex and are important keeping us mobile throughout our lives. There are 26 bones and approximately 40 joints in each foot. The foot is constructed in the form of arches enabling it to adapt to uneven surfaces, support the body's weight, provide shock absorption as well as propelling the body during walking and running.
Footwear Advice
In the average lifetime we walk approximately 100,000 miles. Walking is good for our feet as it helps the muscles and ligaments in our feet to be more efficient. It is important to wear the right footwear to minimise damage to your feet.
Strive Sandals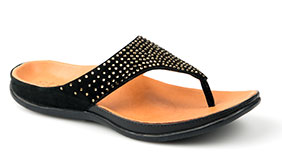 Nowadays we mainly walk on hard, unforgiving surfaces such as concrete, tarmac or tiled floors. Supportive, cushioning shoes are helpful in avoiding problems not only in the feet but also in the Strive sandals incorporate a deep heel cup and contoured foot bed which supports the feet in their optimum position, minimising foot fatigue, improving posture, balance and body alignment. They are also stylish and come in a range of colours and materials.
7 Top Tips for Footwear
The heel should have a broad base and should be no higher than 1 ½".
The sole should provide cushioning and enough grip for comfortable walking
Natural materials such as leather or fabric keep the foot fresh
Fastenings are important to hold the foot securely within the shoe
The toe-box should have sufficient depth to allow the toes to move within the shoe
The insole should preferably be removable to allow for insoles or padding if required
Running shoes should have cushioning in the midsole and a flared heel for stability