Extracorporeal Radial Shockwave Therapy
What is Extracorporeal Radial Shockwave Therapy?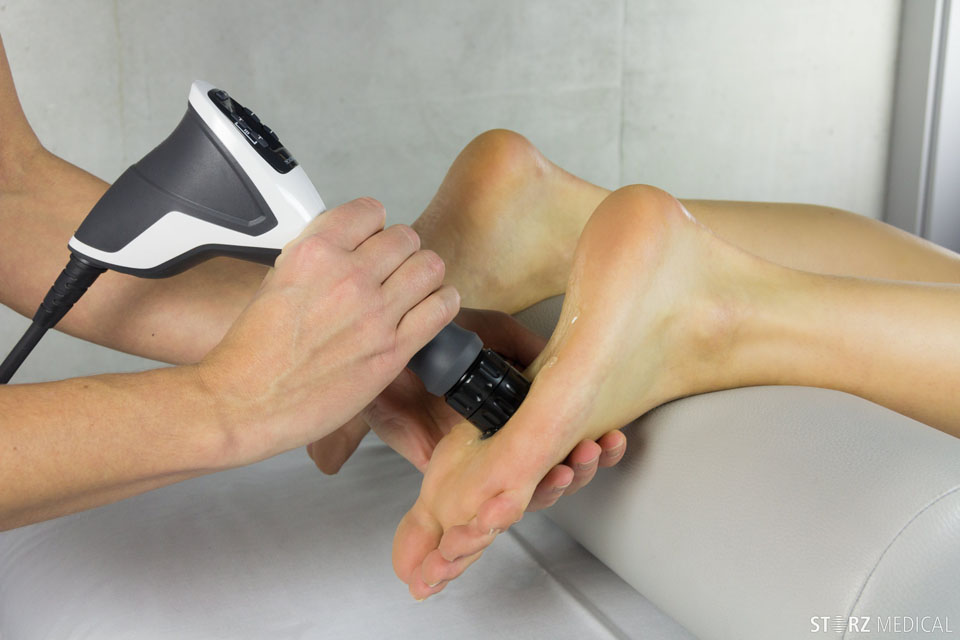 Extracorporeal Radial Shockwave Therapy (ERSWT) is a treatment which involves mechanical shockwaves being passed through the skin via a probe to the painful area of the body. It is thought that ERSWT stimulates a pro-inflammatory response which encourages healing. ERSWT also breaks down calcium deposits in tendons. It facilitates rehabilitation progression by reducing pain via the hyper stimulation of noniceptive fibres.
ERSWT is used to treat, plantar fasciitis (heel pain), lateral epicondylitis (tennis elbow) trochanteric Bursitis (hip pain) and tendinopathies.
What are the Advantages of Extracorporeal Shockwave Therapy over other Treatments?
ERSWT is a non-invasive treatment (no cutting of the skin). It is delivered from outside the body. No anaesthetic or medicine are required. There is a fast delivery of treatment and minimal side effects have been noticed.
You will be able to continue your normal activities after treatment but we advise you avoid impact exercise of activities which stress the treated area for 48 hours.
Immediately after treatment you may experience a reduced level of pain or no pain. Sometimes however some pain my occur a few hours later which may be present for a couple of days. Paracetamol can be taken but no NSAIDs such as Ibuprofen or Naproxen.
How many treatments will I need?
4 treatments are usually required 1 – 2 weeks apart but no more than 3 weeks interval. A follow-up appointment 3 months after the final treatment will be arranged to monitor your response.
Can anyone have Extracorporeal Radial Shockwave Therapy?
No. There are certain conditions which are not recommended for treatment. Your Podiatrist will go through this at your initial appointment.
Is the Treatment Expensive?
Extracorporeal Radial Shockwave Therapy used to be very expensive but these days it is much more affordable. At Merriefield Podiatry Foot Clinic we charge £300 for 4 treatments. Payment in full is required at the commencement of treatment.
What will happen during the Treatment?
You will be asked to lie on your front with your feet over the edge of the couch. A contact gel will be applied to the area to be treated and a probe will be used to administer the shockwaves. This can be a little painful but most people can tolerate it.
If you would like any further information, please call into the clinic or call us on 01202 855872.