Dr's Remedy Enriched Nail Care Podiatry Products
Dr's Remedy formulated nail care collection is a patented blend of natural, nourishing ingredients not found in traditional nail polishes. Dr Remedy is free from formaldehyde, parabens and phthalates. It contains wheat protein, tea-tree oil, garlic bulb extract and lavender.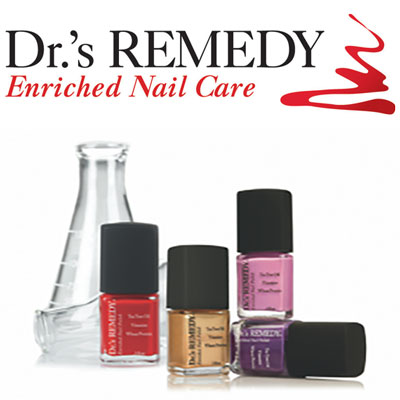 Enriched Dr Remedy polish is not anti-fungal but gentle and highly nourishing suitable for:
Yellow, discoloured nails
Dry, brittle nails
People wishing to limit their exposure to formaldehyde
People with strong, healthy nails, wishing to keep them that way
Nail polish can deplete the natural oils from nails and cuticles. As Podiatrists we recommend changing polish every 10 days and leaving the nails polish-free for a few days allowing them to rehydrate. It is also a good idea to apply cuticle oil daily to hydrate nails and cuticles.
How Long will Dr Remedy Polish last?
Dr Remedy polish should be applied over Dr Remedy base coat. 2 coats of polish should be applied allowing 60 secs in between coats finishing with a Dr Remedy top-coat. The polish needs between 30 – 45 minutes to completely dry. Dr Remedy polish should generally last between 5 – 7 days on the finger nails and 2 – 3 weeks on toe nails.
The polish can be removed with Dr Remedy nail polish remover which is acetone-free and limits dehydration of the nails.
Dr Remedy polishes and nail care products are available from Merriefield Podiatry in a wide range of stylish colours.