Toenail Surgery (Partial/Total Nail Avulsion)
Nail surgery is usually performed for ingrowing nails (IGTN). An ingrowing toenail occurs when a spike of nail penetrates the skin at the edge of the nail. These are often very painful and become infected. Nail spikes can develop through incorrect nail cutting (cut too short), previous injury or fungal infection. Sometimes a wide nail plate may cause the toe nail to in-grow.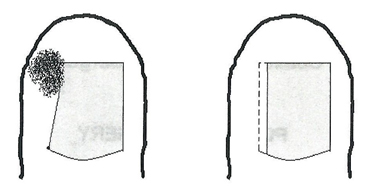 The Operation
A partial nail avulsion (PNA) procedure involves removing the offending piece or pieces of nail that are in-growing. Typically the nail bed will be treated with a chemical called phenol to prevent the removed piece(s) of nail from reforming. A total nail avulsion (TNA) is when the whole nail is removed. Again, the nail bed is often treated with phenol. These nail procedures are performed under a local anaesthetic given around the base of the toe. The surgery takes about ten minutes but you will be in with us for about an hour for pre and post-surgical procedures before you are permitted to leave. The initial dressing is often quite 'bulky' and you will need to bring a suitable shoe or sandal to accommodate this (open toed). You will not be able to drive (due to the anaesthetic) after the procedure and will need someone to assist you home.
As a legal requirement, children (Under 18 years old) who are receiving the operation must be accompanied by a parent/carer or legal guardian with power of attorney.
The first 24 hours after the operation
You will be able to stand and bear weight carefully on your foot after surgery but you should rest with your feet up for the remainder of the day.
Time off work/school
As weight-bearing post-operation is acceptable, it is not compulsory to take extended leave of absence. Therefore, you may return to work the next day.
Please refrain from consuming alcohol during this time as it has a 'blood-thinning' effect which may cause the wound to excessively bleed (increased likelihood of regrowth).
A painful throbbing is expected once the local anaesthetic has worn off. Pain relief through a safe dose of Paracetamol is an effective treatment.
After 2-3 days
The first redressing with us is necessary within 48-72 hours' post-operation. The wound will be examined, redressed and you will be given advice on increasing activity and looking after the wound(s) yourself. This may include a minimal supply of appropriate dressings and how to apply them. Salt-water bathing (see appropriate handout – 'post-operative care') is advised in all cases in-between your dressing changes.
All Physical activity including swimming is not advised until your podiatrist says otherwise. This is due to a great risk of delaying the healing process. Please bear in mind that this may complicate holiday arrangements.
We will ask you to carry out salt water bathing every 2-3 days. The wound site should be covered with a dressing until a scab has formed.
After 4 weeks
Over the four to six weeks after nail surgery the wound(s) usually heals. A scab forms over the nail bed which will come off in its own time.
How nail surgery can help
• Alleviation of pain from the ingrowing or deformed nail.
• You will feel more comfortable when wearing shoes.
• Prevents infection associated to IGTN (no need for anti-biotics anymore!)
Problems/risk associated with nail surgery
• Regrowth of the removed piece or whole nail requiring further treatment.
• Infection (sudden increase in pain and swelling at two to three days after surgery, or later).
• Loosening of the remaining nail. Usually grows out over several months.
• Complex regional pain syndrome (very rare). An abnormal pain reflex causing the foot to remain painful beyond normal healing. Necessitates referral to a pain clinic.
• Anaphylaxis – an extreme allergic reaction to the anaesthetic (scandonest plain 3%). This is extremely rare but must always be taken into consideration. Any complications with previous local anaesthetic injections (i.e dental) should be reported (you will be formally asked prior to surgery).
Alternative treatments to nail surgery Repetitive conservative treatment through chiropody/podiatry.